The Founders
Stan and Sandy Holz are the founders of the Village Gun Store which they opened as a small "Mom and Pop" business in June of 1974. They have historically been known for great customer service and always helping out their community and loyal patrons. Stan and Sandy are now retired but you can still find them helping out in the store from time to time.
The long history of great customer service, personal attention, and casual atmosphere of a friendly, family ran business which Stan and Sandy have always presented will always be found at the Village Gun Store. These two remarkable people have truly set the example of what a small town business should be like. The town of Whitefield, the State of New Hampshire, and all of the many loyal customers of the business will forever be grateful.
My wife and I were both born and raised in the Lakes Region of New Hampshire. I grew up on Farms and was very involved in 4H, FFA (where I was State Vice President for NH from 2001-2002), and also Army Cadets. I am a second generation gun dealer taking after my father. Both my parents have a love for history and passed that passion on to me. My father was heavily into the Civil War and my mom the Old West. My mother was into cowboy competition shooting and was with the SASS group The Pemivalley Peacemakers.
I always had a love for the Army and I left for the Service right out of high school. I served twelve and half years as an Infantryman and specialized in dismounted reconnaissance. I am a Combat Veteran with two tours in Iraq and one in Afghanistan. The last seven years I spent stationed at Fort Drum with the 1st Squadron 89th Cavalry Regiment (RECON) 2nd Brigade Combat Team, which is part of the famous 10th Mountain Division.
My wife Nicole served in important and significant roles for my unit as one of the leaders for our Family Readiness Group (FRG). She was awarded and inducted into the order of Saint Joan D'Arc (the top volunteerism award given by the United States Armor /Cavalry Association of the United States Army).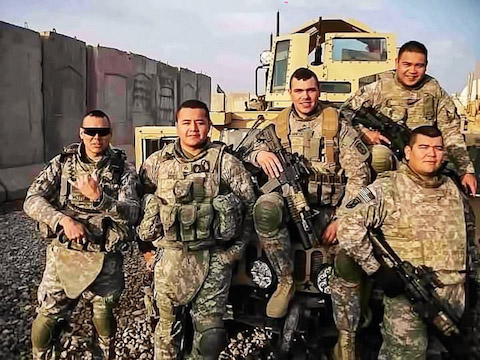 My original plan was to go career and stay in the Army as long as possible but due to years of added injuries to my body I was told I could no longer be a Grunt and was medically retired due to service connected disabilities . "Being an Infantryman was never just a job for me, it is a lifestyle!". I left the Army as a Staff Sergeant.
I found this business for sale in March of 2014 and figured that if I couldn't fight "evil doers" anymore, I could truly enjoy living out my days owning and running a famous gun store. I met Stan and Sandy and immediately hit it off good with them. Stan and I share the same passion for antique guns and history. Once this dream of owning the store became reality, Nicole and I moved our three young children to the Whitefield/Dalton area so we can be closer to the business and also to become part of the great surrounding "Great North Woods" community. My plan is to keep everything the same that Stan and Sandy have been doing for the last forty plus years (low prices, great customer service, and honesty) but naturally I will add my own touch to it.