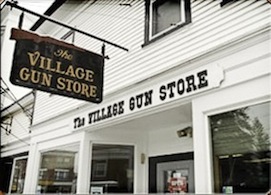 Browse our extensive inventory of over 700 firearms, and take advantage of our aggressive discount policy. Our selection includes all manner of handguns, rifles and shotguns; and the ammo and accessories to go with them. You may save 10% to 20% beyond our competitors, and during our ANNUAL ANNIVERSARY SALE, which is held the last Thursday, Friday, and Saturday of June, we take an additional 10% of everything, store wide. Many items go out at cost during this once a year sales event.
We take trade-ins, and therefore always have a good selection of second hand firearms in stock. You do-it-yourselfers will love our inventory of reloading supplies, including several brands of powders and primers.
We can even do mail order gun sales, and though we can't ship guns directly to an individual, we can ship firearms to your local dealer. Contact us for details.
---
News and Events
We just received good shipments of TULA steel case, non-corrosive .223 and 7.62x39 ammo. The .223 is $289.95 and the 7.62x39 is $319.95 per case of 1,000 rounds. My distributors are now saying that all Russian ammo will be in very short supply due to the current political situation.
Kimber Solo 9mm pistols are in stock now. MSRP is $815 ... our price is $719.95.
===========================================================================
Every day we are told by someone that they heard we had sold our business. We have not, but here's the scoop:

Yes, our business is for sale and has been for two years now. So far we have had many, many inquiries, but nothing has led to an actual sale. The sale would involve the purchase of our building, (which is an income property), the value of the business itself, and the standing inventory. This amounts to a substantial sum of money, so significant equity or cash reserves would be required to complete this purchase.

Next June will mark the 40th anniversary of our business, which we started back in 1974. Realistically, neither Sandy nor I want to continue much longer. It's time to retire and enjoy some time off ... time we can spend travelling and visiting friends and family. We really want to see our business continue well into the future but, so far, things are not looking promising. If, in another year, we are no closer to selling our business, we will have to consider just selling out and closing. If that happens, we will continue to own the building and, hopefully, find a new business to lease the space to.

In the meantime, we are hopeful someone with the financial resources will come forward and take over this wonderful enterprise. After all these years, we really do not want it to just disappear.

The sale is being handled by Frank Mai at http://www.diamantegroup.com/
=================================================================
For 2014, we will no longer be selling NH Fish and Game licenses.
=================================================================