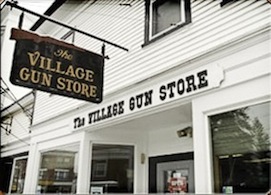 Come in and browse our extensive inventory of over 700 firearms, and take advantage of our aggressive discount policy. Our selection includes all manner of handguns, rifles and shotguns; and the ammo and accessories to go with them. You may save 10% to 20% beyond our competitors, and during our ANNUAL ANNIVERSARY SALE, which is held the last Thursday, Friday, and Saturday of June, we take an additional 10% of everything, store wide. Many items go out at cost during this once a year sales event.
We take trade-ins, and therefore always have a good selection of second hand firearms in stock. You do-it-yourselfers will love our inventory of reloading supplies, including several brands of powders and primers.
We can even do mail order gun sales, and though we can't ship guns directly to an individual, we can ship firearms to your local dealer. Contact us for details.
---
News and Events
The ammunition manufacturers are now saying they expect to at least start meeting the demand for .22 rimfire ammo by the end of August. They're already seeing some easing of the unprecedented demand which, they say, should let them finally catch up. I'm not holding my breath.
GECO, a German ammunition company with plants in Germany, Switzerland, and Hungary, is now back in production with their line of very high quality .22 LR ammo. Their powder plant burned to the ground a few months ago, but they now have another powder source. Their ammo is not cheap, typically around $60 for 500 rounds, but it is very good and made to function in semi-automatic firearms. Their importer is expecting the first deliveries in mid August and I have been promised a reasonable amount when they finally get into the country ... enough so we will be able to sell 500 round bricks rather than single boxes. We'll post more information as it becomes available.
===========================================================================
We have NOT closed our store, and we are still going "great guns" with full inventory.

Our business IS for sale. June marked the 40th year we've been in business; a business we started back in 1974. Realistically, neither Sandy nor I want to continue much longer. It's time to retire and enjoy some time off ... time we can spend doing some travelling and visiting friends and family. We really want to see our business continue well into the future but, if it doesn't sell, we will have a going out of business sale in December and close the store at the end of 2014. We are still very optimistic about finding a buyer for our business.

The sale is being handled by Frank Mai at http://www.diamantegroup.com
Frank can also be reached by phone at 603-837-3331, or by email at [email protected]

=================================================================
For 2014, we are no longer be selling NH Fish and Game licenses.
=================================================================